2023 Honda HR-V Review


The Honda HR-V has always been a great alternative for those who find the CR-V and the BRV too big for their liking. It has always offered a lot of value for its size and price tag. The 2023 Honda HR-V is out now, and it is a complete redesign from the previous model. It looks great but how good is it in all the other areas? To find out how good it can be and what it offers, check out the 2023 HR-V review below:
Features
The 2023 HR-V is part of the 3rd generation of the make. It is a 5-door subcompact CUV which shares its platform with the highly lauded 2022 Honda Civic. There are 3 trims available, and 1 engine is offered as of now. Like all other Hondas, the 2023 HR-V gets the Honda Sensing package with a suite of safety tech.
Engine and Numbers
The 2023 HR-V comes with a 2-liter 4-cylinder engine. This produces 158 hp and 138 lb-ft. It is mated to a CVT, which sends the power to a front-wheel drive system. An all-wheel drive system is also available. The result is that the CR-V can achieve a 0-60 mph time of around 8 seconds.
According to the EPA, the FWD HR-V can give a maximum fuel economy of 28 mpg combined; 26 mpg city and 32 mpg highway. If you opt for an AWD system, you get 27 mpg combined; 25 mpg city and 30 highway.
Interior and Technology
The 2023 HR-V sports an awesome interior design that's great to look at and is very functional. The mesh-type design and many other styling cues are like the 2022 Civic's praiseworthy interior. The cabin is quite roomy, so headroom and legroom won't be a problem.
The storage capacity has been increased according to Honda's statement. The company has also made the HR-V more practical by decreasing the lift-over height so that loading the HR-V is easier. Inside the cabin, the cubby storage is also great for storing all sorts of small items.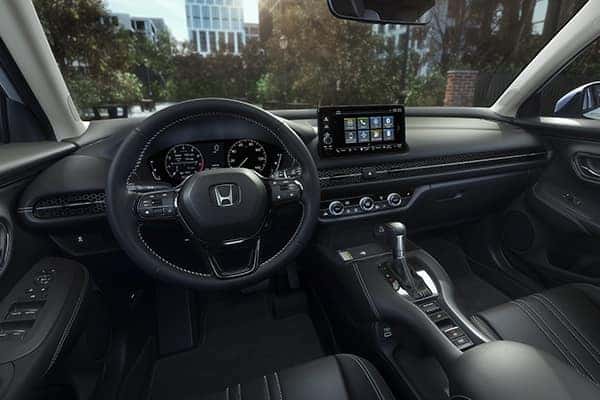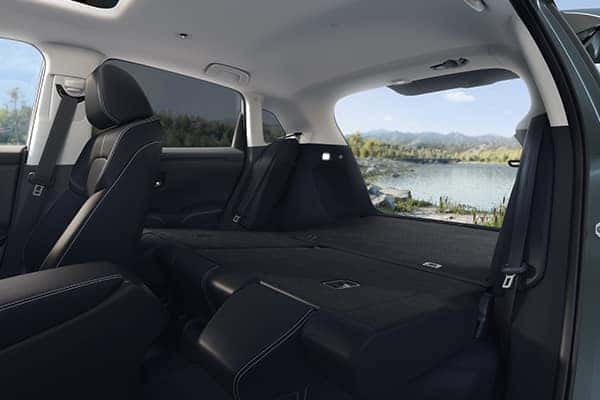 2023 HR-V LX
The HR-V is well equipped for its price tag. The LX model offers auto climatic control (single-zone), push-button ignition, and cruise control; all standard. The infotainment system is a 7-inch touchscreen, compatible with Android and Apple; connected to 4 speakers. You also get USB ports.
The highlight here is the sheer number of standard safety features that you get. All Honda cars today are equipped with the Honda Sensing package. It offers driver's assistance goodies like forward collision warning, lane departure and lane keep assist, and automated emergency braking.
2023 HR-V Sport
The HR-V Sport trim adds more luxuries to the interior. For example, you get heated seats in the front, plus leather wrapping on the steering wheel and gear shifter. Safety is also enhanced with a blind-spot monitoring system (w/rear cross traffic alerts).
2023 HR-V EX-L
The top tier trim is the HR-V EX-L and naturally, it is the most sophisticated one. Apart from all the features described above, it also offers you leather-trimmed seats, dual-zone climate control, an auto dimming rearview mirror, ambient mood lighting, and an 8-way power adjustable driver's seat.
Furthermore, the infotainment system also gets some upgrades. The touchscreen is larger at 9 inches, and the number of speakers has been doubled to 8. You also get wireless charging for your phone, and a moonroof. This model also gets parking sensors for the front and the rear, so parking it is a safer task.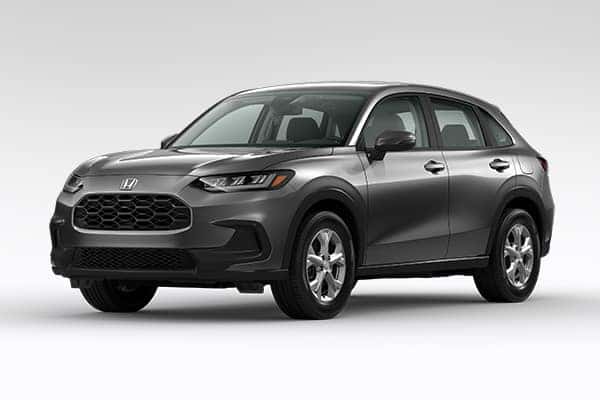 2023 HR-V LX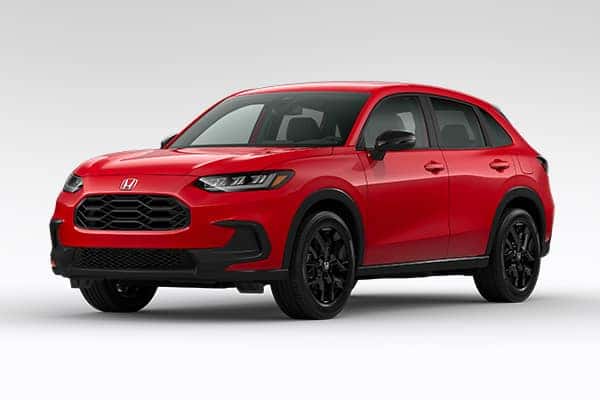 2023 HR-V Sport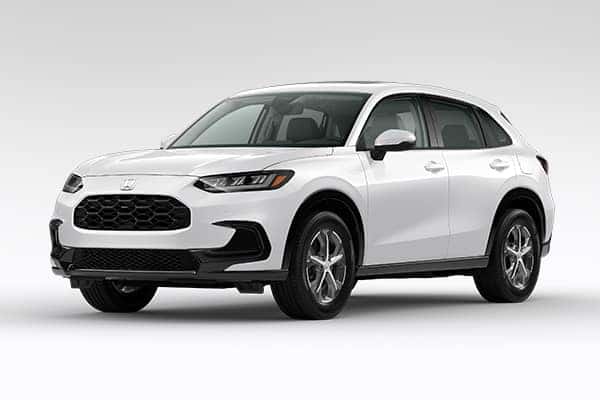 2023 HR-V EX-L
Exterior and Driving
The new HR-V 2023 has a brand-new exterior which has completely modernized it. It is also wider and longer than the previous model. To complement its striking new exterior, the LX model gets 17-inch alloy wheels. Meanwhile, the Sport trim is equipped with 18-inch gloss black alloys and its own sporty front grille. The EX-L trim level has its own unique alloy wheels.
The exterior colors available on the 2023 HR-V are the following:
Crystal Black Pearl
Milano Red
Lunar Silver Metallic
Modern Steel Metallic
Nordic Forest Pearl
Platinum White Pearl
You should ensure that the colors mentioned are available for the trim of your choice.
The new HR-V feels quite awesome to drive according to its testers. As indicated by its aforementioned acceleration figures, it is a very athletic car when you put your foot down. The handling performance is also very good indeed. And yes, it is quite a comfortable vehicle as far as the ride quality is concerned.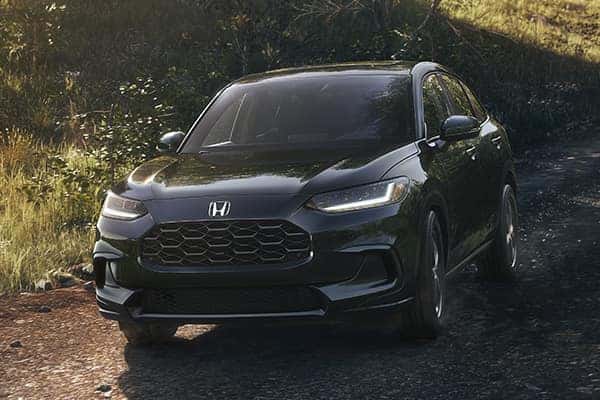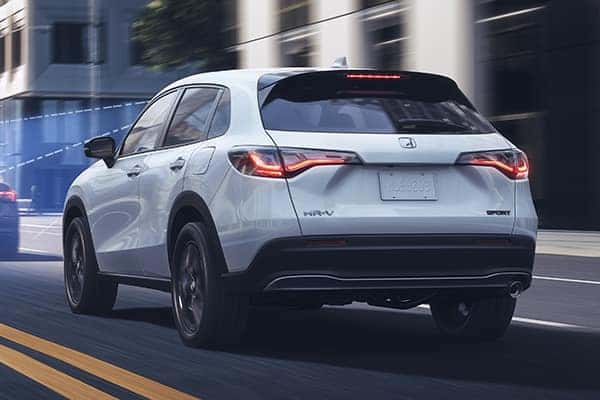 Reliability and Warranty
The HR-V is too new and hence it hasn't been given a predicted reliability rating by JD Power yet. However, the user reviews are all positive and there are no recalls for this vehicle. The dependability of the HR-V has been praised by journalists as well.
If you're anxious about its predicted reliability, fret not because you will receive 2 warranties. You get the industry standard limited warranty which covers you for 3 years/36k miles. There's also a powertrain warranty which is good for 5 years/60k miles.
Verdict
The new Honda HR-V 2023 is a great vehicle on all fronts. The old model was known for its practicality and for being good value for money. This one is too, but it is also a fun car to drive. Despite being gifted with a more powerful engine, it doesn't lose its fuel efficiency.
Also, it may be smaller than the CR-V and the BRV, but you won't have to worry about the interior or storage space. The number of standard features that you get is also quite generous. It also shouldn't take long for the reliability ratings to come out to prove their dependability.
To sum it up, if you want a small and fun crossover that can be used as a family car, get the HR-V.
Find out the 2023 HR-V MSRP in Bountiful, Utah and get yours here.