2022 Honda CR-V Hybrid SUV Review and Walk Around


The Honda CR-V has been one of the most popular compact crossovers since its release more than 2 decades ago. This is a vehicle that has always been known for its reliability, comfort, and great value for money. The 2022 CR-V carries those same traits, but how good is its Hybrid model? Well, let's find out with a 2022 CR-V Hybrid walk around and look at its quirks and features.
Features
The 2022 CR-V Hybrid represents the 5th generation of Honda's best-selling crossover. It offers a total of 3 trim options and 1 powertrain in the states. Apart from providing the user with a great fuel economy, it also aims to deliver a comfy ride. It also offers a host of driver-assistance features.
Engine and Numbers
The 2022 CR-V Hybrid features a 2-liter 4-cylinder engine that combines with 2 electric motors to produce 212 hp and 232 lb-ft. This setup is connected to a CVT and the drive type is all-wheel drive. The result is that you accelerate from 0 to 62 mph in about 7 seconds. The max towing capacity is 1500 lbs.
According to the EPA's estimates, the 2022 CR-V Hybrid has a great fuel economy for its category. It should give you a fuel average of 40 mpg in the city and 35 mpg on the highway for a combined economy of 38 mpg. Hence, it makes quite a bit of sense to choose this over the full-gasoline version.
Interior and Technology
The 2022 CR-V's interior is a prime example of Honda's superb build quality. Also, reviewers have not only praised it for its aestheticism, but also for how great the comfort is. The noise-free environment in the cabin complements the Hybrid powertrain's quietness and smoothness pretty well.
The amount of room you get adds to the comfort. Despite this being a compact CUV, its occupants won't have to worry about headroom and legroom. It also won't disappoint you in the storage aspect. All the CR-V models offer the best cargo space in this class when you fold down the second row of seats.
Even with the battery pack, the hybrid model still manages to have a good amount of storage space.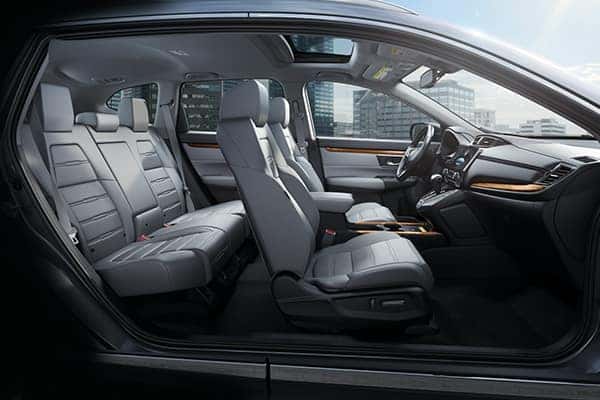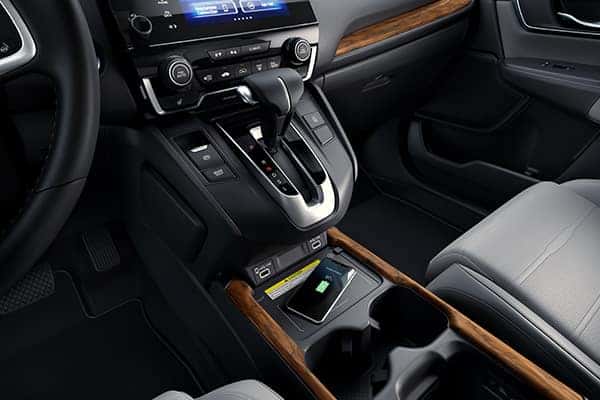 2022 CR-V Hybrid EX
We begin with the entry-level CR-V Hybrid EX which offers a lot of standard amenities. You get dual-zone automatic climate control, a touchscreen with Apple and Android integrations, and heated front seats. But the real highlight here is the suite of safety features that you get.
The vehicle comes with the Honda Sensing package which includes automated emergency braking, adaptive cruise control, and lane-keep assist. You also receive a blind-spot monitoring system w/cross traffic monitoring alert. It should be noted that Honda Sensing is available on the entire Honda range.
2022 CR-V Hybrid EX-L
This mid-level trim takes the refinement up a notch and it adds leather trimmings, a heated steering wheel, and an automatic dimming rearview mirror. You also get a higher-end 8-speaker stereo system. The seats upfront are powered with the driver's seat also receiving memory settings.
The tailgate is also powered so that you can access the trunk easily. Apart from its electrified powertrain, it is quite similar to the regular CR-V EX-L AWD when you look at the standard features.
2022 CR-V Hybrid Touring
Finally, we have the range-topping Touring trim which gives you an even more upscale feeling. This one features wireless charging, parking sensors, and a satnav. It also has a powered tailgate but it is hands-free. As a result, you won't have to use your hands to operate it in case they're full of stuff.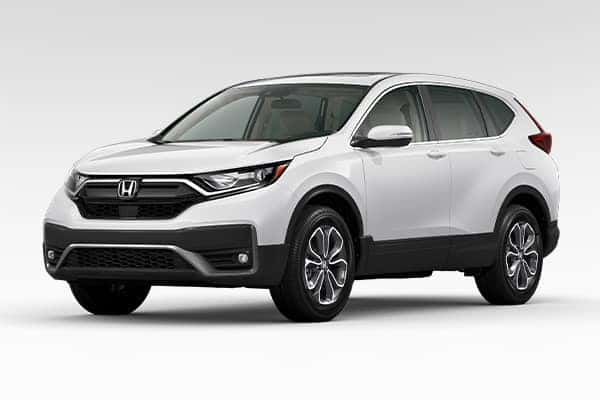 2022 CR-V Hybrid EX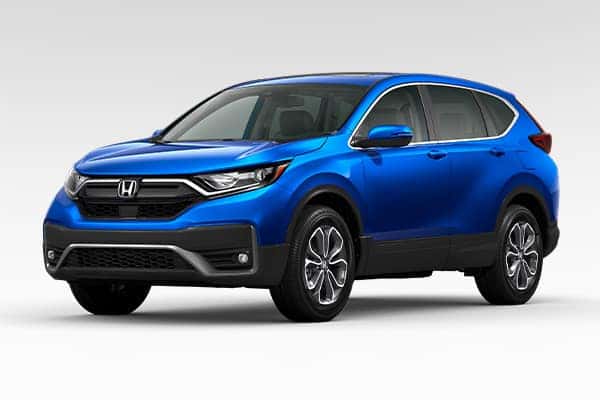 2022 CR-V Hybrid EX-L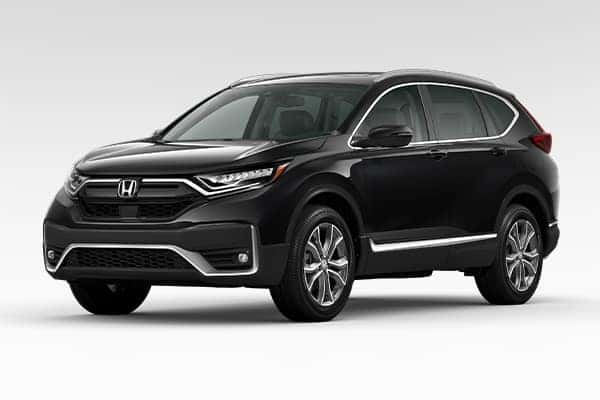 2022 CR-V Hybrid Touring
Exterior and Driving
The 2022 CR-V Hybrid looks just as great and stylish on the outside as it does on the inside. You get 18-inch wheels on the base trim while the top-tier one comes with 19-inchers. The latter also adds roof rails and rain-sensing wipers to the standard features list.
The colors of the 2022 CR-V Hybrid are the following:
Crystal Black Pearl
Lunar Silver Metallic
Modern Steel Metallic
Obsidian Blue Pearl
Platinum White Pearl
Radiant Red Metallic
Sonic Gray Pearl
You should ensure that the colors mentioned are available for the trim of your choice though.
As far as driving is concerned, the 2022 CR-V Hybrid is excellent. The handling is top-notch and the engine keeps a balance between great fuel economy and acceleration. The ride is very soft and gentle and there's almost no noise generated. The tranquility has been praised by several top motoring journalists.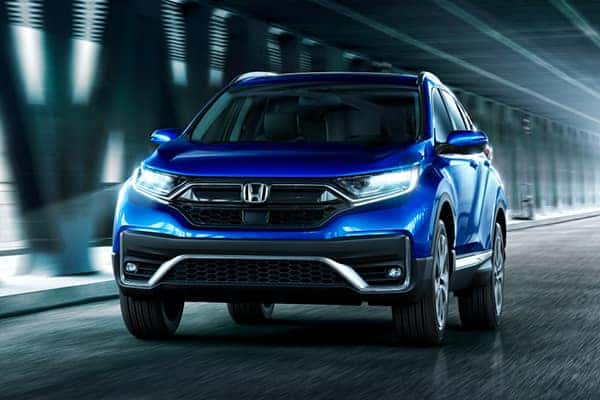 Reliability and Warranty
The 2022 CR-V Hybrid is very reliable indeed. JD Power has given it a reliability rating of 84 out of 100, which puts it in the Great category for predicted reliability. Consumer Reports has also showered this model with praise and has called it a great purchase. The user feedback is also positive.
The CR-V Hybrid comes with 3 warranties. The 1st is a limited warranty which covers the vehicle for 3 years/36k miles. The 2nd is a powertrain warranty that is good for 5 years/60k miles. The 3rd is a warranty for the hybrid components and you can find covering you for a maximum of 10 years/100k miles.
Verdict
The 2022 CR-V Hybrid is a brilliant car for those who are looking for an inexpensive and reliable crossover that goes easy on their fuel budget. Yes, it does come with many luxuries but the main point is that it is well equipped in terms of safety features.
A major selling point of this vehicle is the amount of comfort that it provides. The suspension absorbs all of the blemishes that you can encounter on the road. There's a fair amount of noise cancellation as well. The CR-V Hybrid is clearly built to offer a refined experience for its occupants.
With all of the above, this vehicle is quite a bang for your hard-earned buck and its low running costs should save you many more bucks.
To get the 2022 CR-V Hybrid in Bountiful, UT – visit here.